Reflections celebrates 140 years of art curation, scholarship, and education for the Columbus Museum of Art. It's been in the works for ten years. And in 705 pages, it includes 160 essays on 222 pieces of art, across nine collections, by 72 writers and contributors. It's the art curator's dream project.
But in no conversation about the design and format of the book was the art historian ever our top priority. Reflections means to break the typical art catalog formula. In our creative brief, a few questions emerged. How could we tell the long history of the museum, and also create an accessible entry point to the art theory? How could we structure and organize the huge amount of material, and still keep each section fresh and navigable?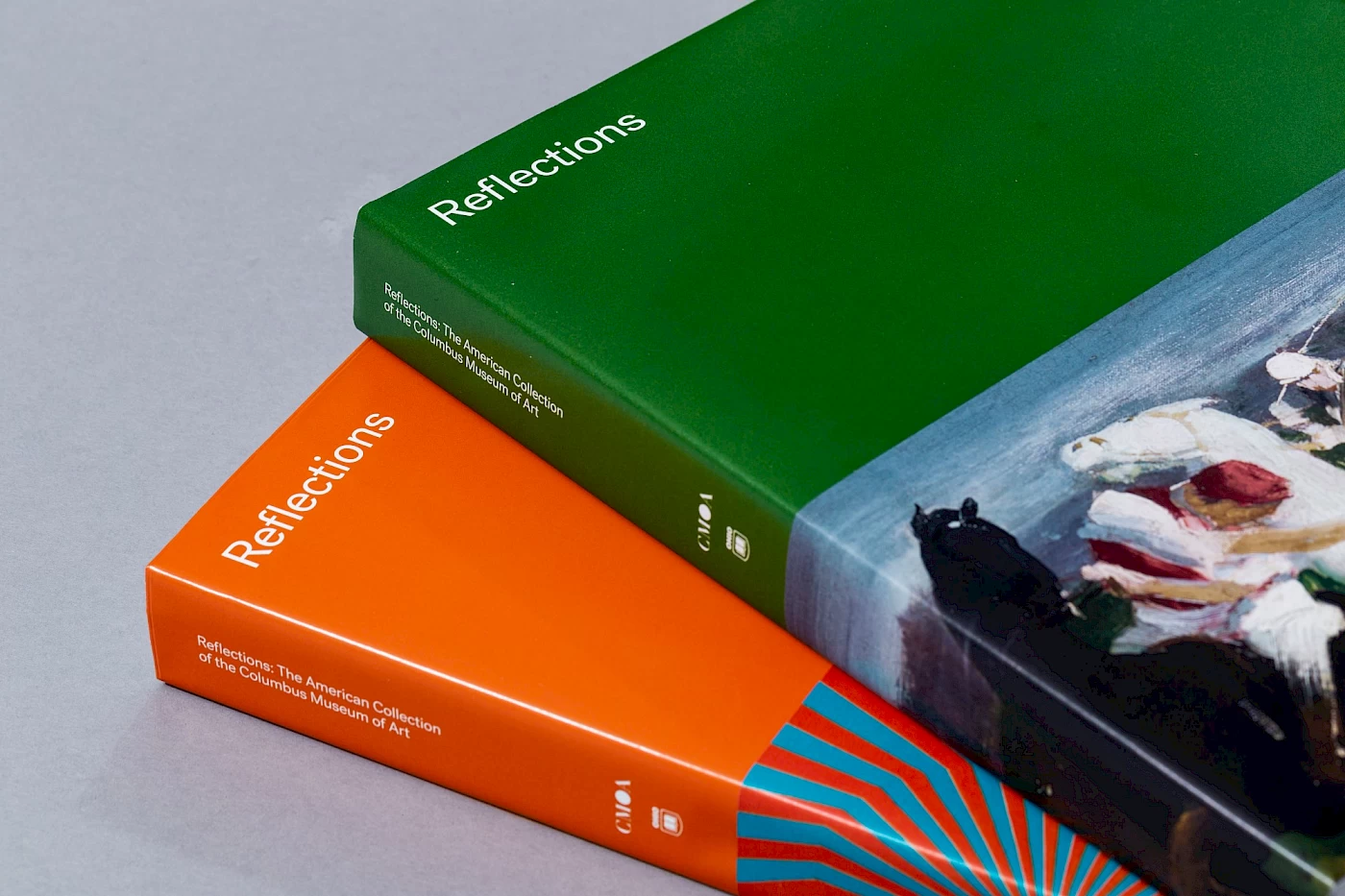 A unique approach to a traditional format
Reflections contains three types of content. First, a section for the director's essay and each of the museum's nine major American art collections. Then, chronological essays on individual works of art. These are broken up by the most interesting aspect of the book: sections we call Intersections essays. Here you'll read two takes on one important piece of art, told from the point of view of two very different writers.
You might not expect to read about the type of wheat hidden in a nineteenth century still-life about hunting. Or it's geographic and cultural implications, and how that ties back to the piece's title. You might not expect to read from an acclaimed novelist, and the artist's granddaughter, together. Or a professor and a physicist. Or a historian and fashion industry CEO. And that's the wonder of Reflections — it highlights perspectives that we don't often hear from in the art world.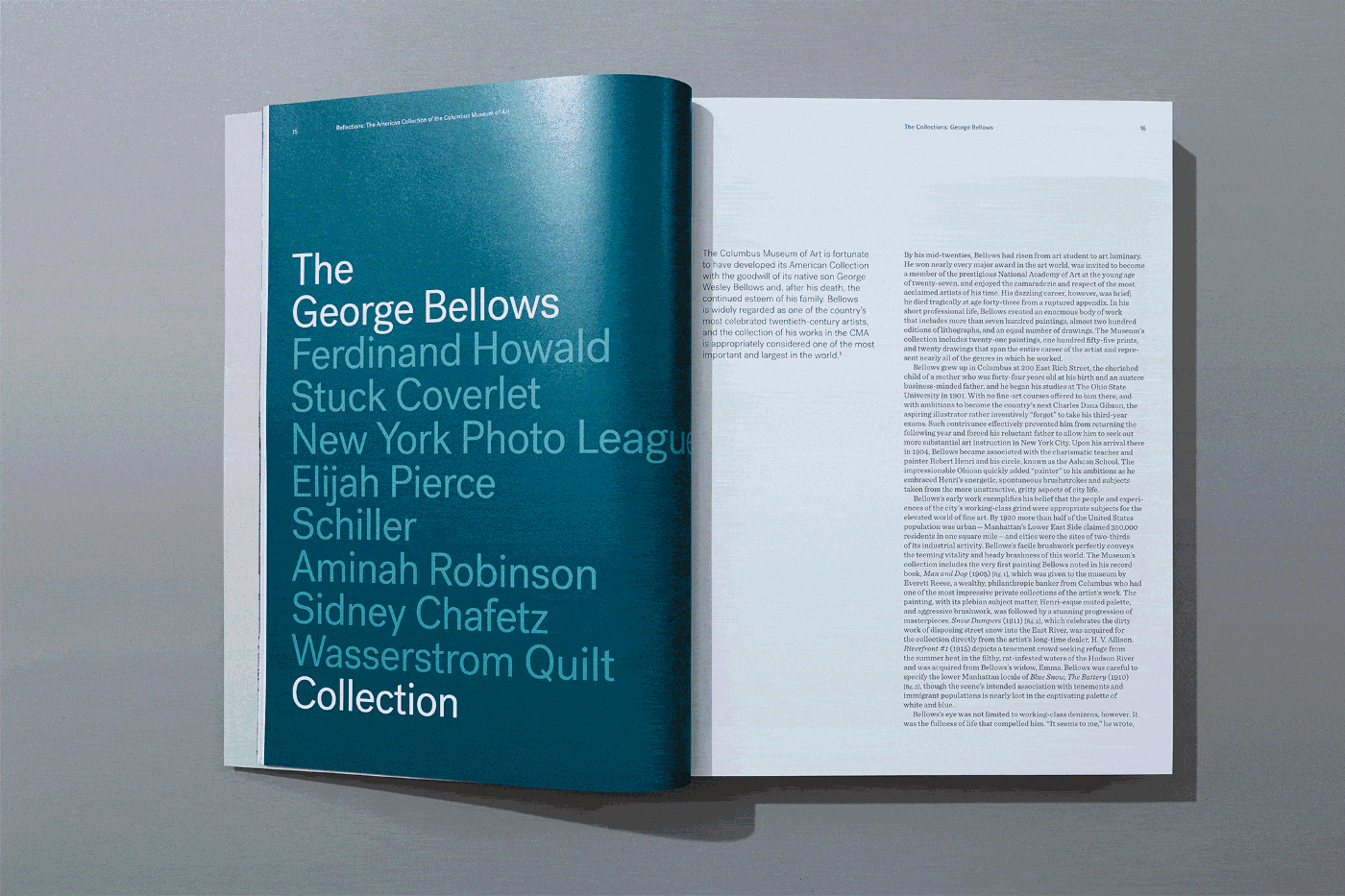 All Art is Contemporary Art
When content is so deep and so broad, it's easy to go overboard, or to over-standardize everything with the design. The concept that new ideas are all contemporary to their place in history informed our decisions. This helped us create a structure for the book, and break it when needed.
Typography throughout the book has connections to American history. In Collections essays, we set body text in a slab serif—Sentinel—that references wood letterpress type and its British predecessor, Clarendon, in a more legible way. It's complimented by Post Grotesk, a sans-serif that adds more personality to a classic American face like Franklin Gothic. In the later individual works sections, we simply flip the typefaces used for headlines and text.
For each Intersections essay, we've taken measures to make the sections stand apart. Short-cut intro pages help you flip right to them. Chosen typography for these pages matches the period when the featured artwork was made. We've used color palettes inspired by each piece to draw everything together. And we laid out both essays parallel on facing pages, using different colors to help them stand out.
The American collections span so many years and so many styles and movements. When choosing cover imagery, it was important to pick something foundational to the museum. But what single work of art could represent the diverse early collections and contemporary work? It didn't do the book justice to link the cover to only one artistic movement of many in the collection.
Our solution was a two-sided, reversible dust jacket. On one side — a George Bellows painting from 1910 and a matching deep green color. Fold it the other way, and you'll get a flood of bright orange and a jarring op-art piece by Edna Andrade from 1965. Suddenly the cover represents more of the collection, and the book can attract two different audiences on the shelf.
Reflecting on Reflections
We couldn't have asked for much more of a challenge for our first full book design project as a studio. In fact, we started and finished our second book well before Reflections hit the shelves. But now we've learned how to navigate the world of art catalogues. We've thought through how to approach and organize (very) long-form print projects. We've got some tricks up our sleeve and can apply our obsessive attention to detail in very clever ways. And we have the great feeling that always comes from helping our partners finish what they've been working towards for many years.