We love nothing more than helping our clients launch something new. And when we talk with new clients, we're interested in creating a partnership for the long-haul. We help them define (or redefine) their brand identity. Then we execute on that brand identity to help them create their future instead of simply existing in it. Echo Spirits Distilling Company is one such client.
Echo Spirits is a new craft distillery in Columbus, Ohio. In talking with the founders — Joe and Nikhil — we saw that they knew where they wanted to go. They had a vision and a philosophy that made them different. But they struggled to articulate all this in a consistent way. Over the course of two years, we've helped steer the Echo Spirits brand as they bring their passion to life.
The first step was discussing difference between brand and identity. The Echo identity is rational and tangible (think logos, colors, and packaging). The Echo brand should be emotional and intangible (think brand story and personality). That's where we had to start.
Discovery
We started by researching competitors and best practices among craft distilling. We found gaps in the market — both visually and verbally. Competitors and peers focused on the spirits first (not an unreasonable approach). But no one was talking about the personalities behind the spirits. And more importantly, no one was talking about why they were making spirits.
We also found that ideas like "hard work," "timeless traditions," and "hand-crafted" permeates the craft distilling market. These things should be givens, and they wouldn't make Echo stand out on their own.
It's critical to any branding project that our clients are invested in the process. So we put our discovery findings to the test in a collaborative workshop. Echo's vision is a return to a more personal way of doing business. At its core, the vision is about connections and relationships. People used to know the craftsmen behind their goods and services. Their tailor and their butcher. The family who owned the hardware store. So, why shouldn't people know their distiller?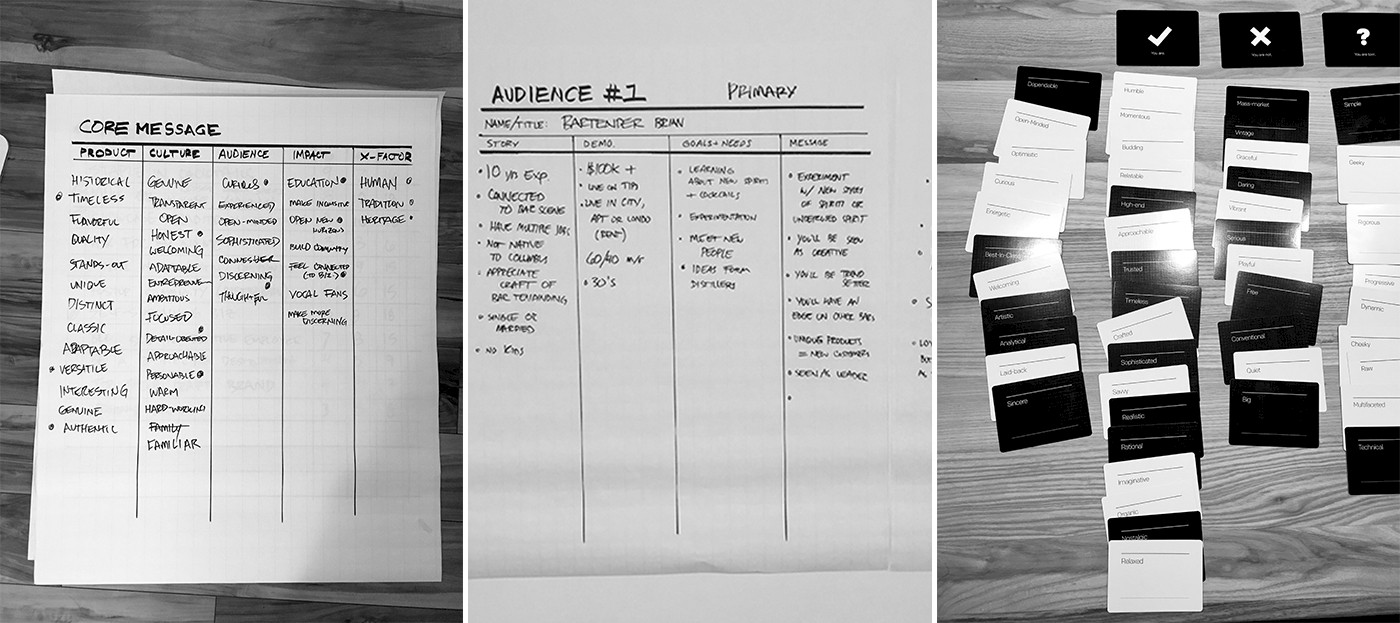 Strategy and Creative Workshop
Talking about the brand (the why) first set the stage for authentic identity work. The idea of "Know Your Distiller" forms the creative platform for entire identity system. We wrote a brand strategy document that detailed their messaging, audiences, and personality. This gave us all a map for how to talk about why, how, and what Echo does.
While we were finalizing the brand positioning, we got together for another workshop. This time, we started to build visual and verbal ideas on our strategic foundation. We used mood boards and found imagery to help everyone visualize design opportunities. The outcomes of this workshop, along with our final strategy, formed a bulletproof creative brief.
Identity Concepts
Any good identity has two parts: a logo and a visual system. For a new company like Echo, the logo becomes an important part of building brand recognition. So that's where we began. We explored logo concepts that tied directly back to Echo's brand story. We also created a peek at how the logos might extend to a larger design language.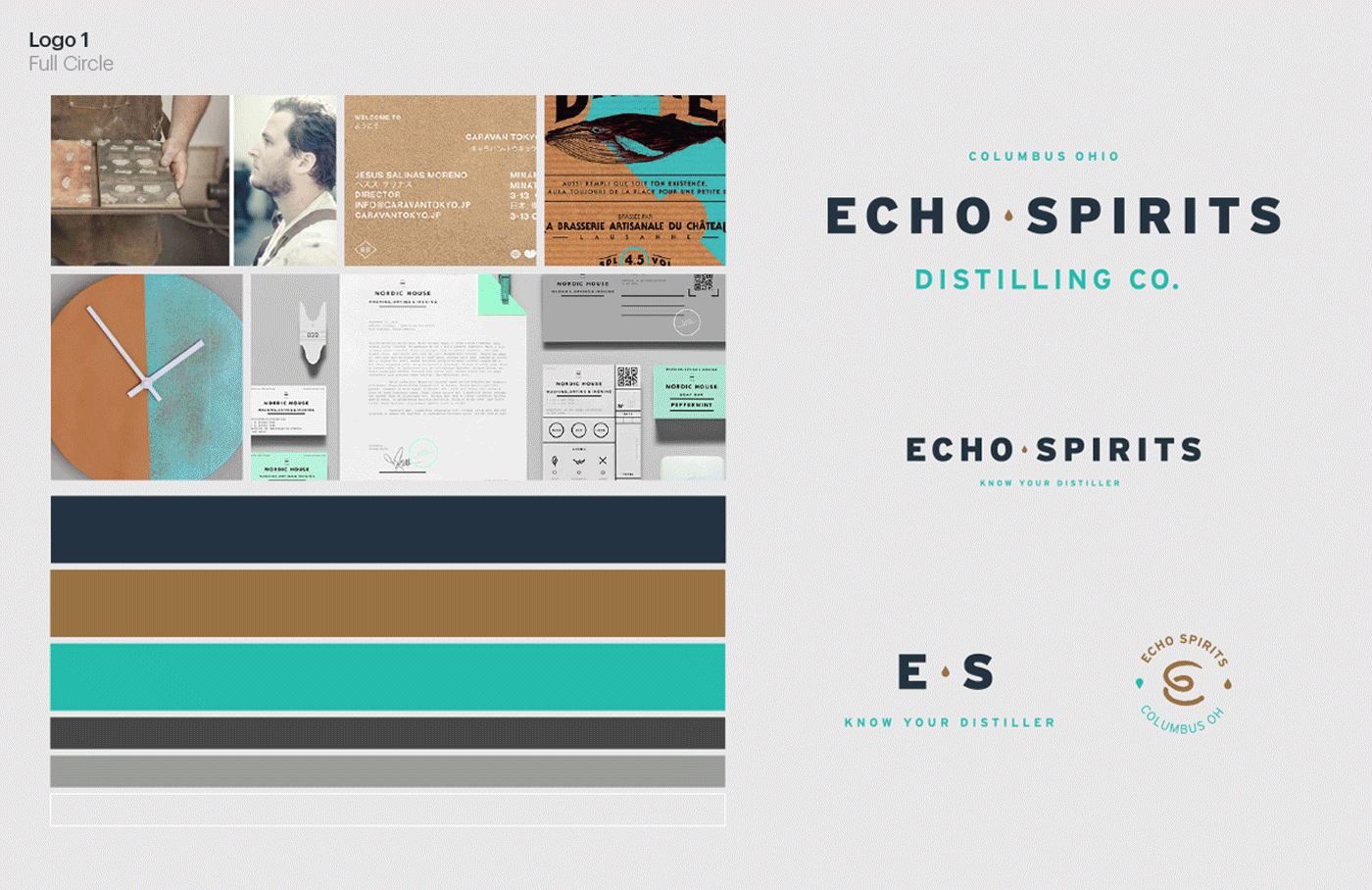 The final logo takes inspiration from historical shop window typography. The dotted line represents connection between Echo and its customers. And it expands and shifts to create a dynamic system that becomes more than a static logo.
We built a color palette around the connection between old and new. The copper of a brand new still and the sea green of weathered copper patina are the core colors. The design system uses the typeface Interstate for its main typography. Used in U.S. highway system signs, Interstate creates an everyday familiarity. And finally, we tested all these elements in sample executions to make sure the system works.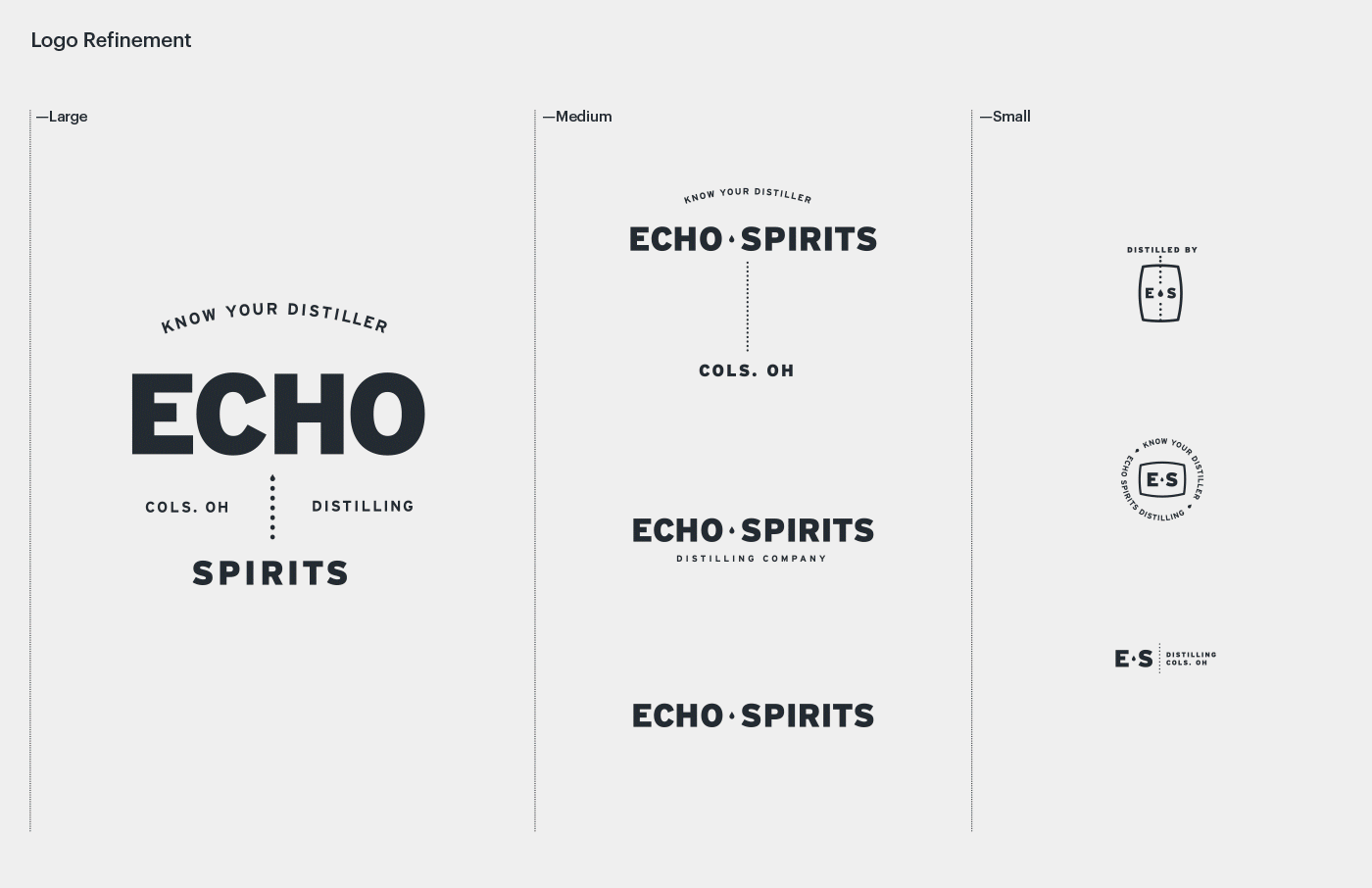 Brand Execution
We wrote and designed a brand guide so the founders could hit the ground running. And we began putting the identity system into practice. We created limited-edition swag for a Kickstarter campaign. And we wrote and designed their website.
Label design is the most important communication tool a distillery has. Labels communicate practical things, like what's inside and how it's made. And they communicate intangible things, like quality and what the brand stands for. Like the brand strategy, we needed to learn a few things before we put ideas on paper.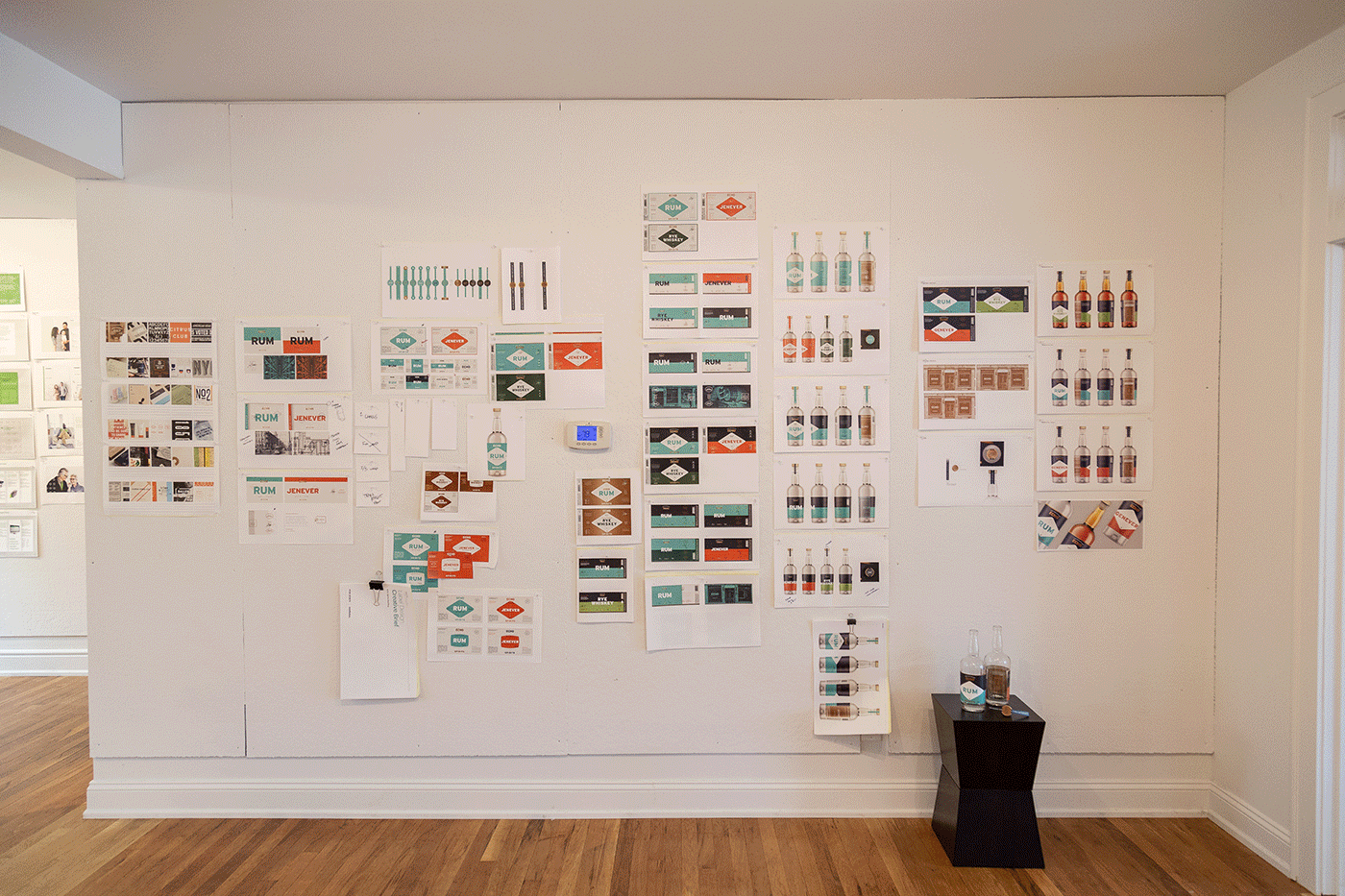 We conducted interviews with both bartenders and craft spirits enthusiasts. We learned that the number one audience we needed to connect with are bartenders. They're the gatekeepers for new spirits brands. And they wanted clarity in the labels and ergonomics in bottles. These needs come through in physical ways. Our labels don't wrap all the way around to make it easy to take inventory. And our bottles have a long neck to make grabbing more than one an easy task. If we can get bartenders excited about the spirits and the brand, the word will spread quickly to our other audiences.
The Echo Spirits labels pull all the brand elements into one place. Bold color stands out behind the bar and on the shelf among more complex designs. Small die cuts, metallic finishes, and special imagery printed on the reverse side of the labels (and seen through the back of the bottle) add curiosity and joy to the design. And our logo system functions beautifully. By adding the spirit name in the middle between "Echo" and "Spirits," the label becomes an extension of the logo.